details news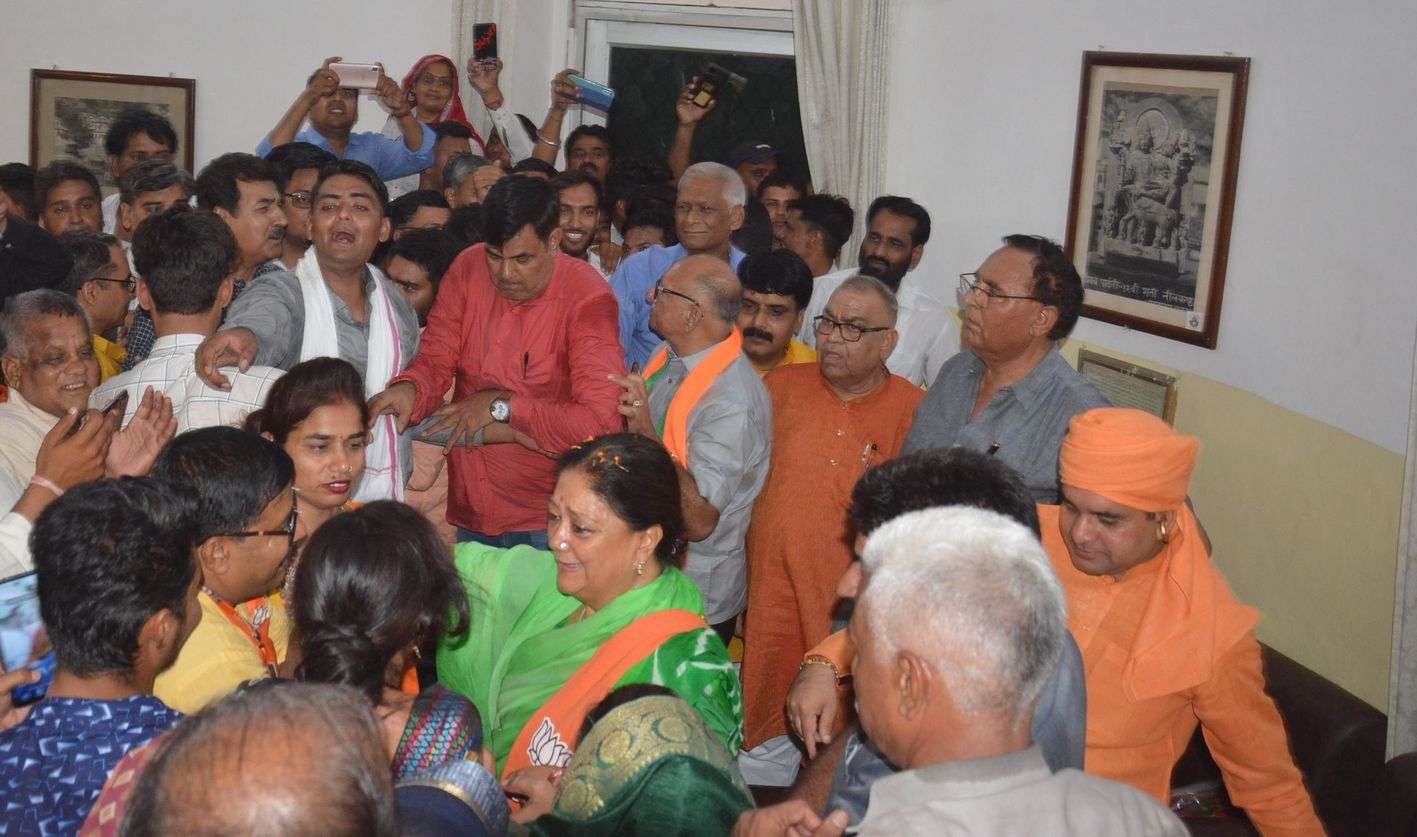 Alwar. Former Chief Minister and BJP's National Vice President Vasundhara Raje reached Alwar's Circuit House late on Saturday evening. Here the workers welcomed him by presenting him with a garland of flowers. Due to the chaos, Vasundhara Raje could not address the workers, while many workers kept waiting to welcome them with flowers in their hands. After a brief stay at the Circuit House, she left to attend a private event in the city. Earlier, under the leadership of Pt. Jalesingh, the workers welcomed Raje with a sword at Kati Ghati.
Former Chief Minister Raje reached the Circuit House late at eight o'clock in the night. The workers gathered outside the Circuit House here welcomed him with a garland and raised slogans in his support. Later she reached the hall, where she was also welcomed by the workers.
the hustle and bustle of the welcome
There was a ruckus among the workers regarding the welcome of former Chief Minister Raje. Even after the number of workers in the hall was not much, there was competition among the workers to reach near Raje. Due to this there was chaos in the hall. During this, some women also had to face trouble, while the swapi and flower garlands of many workers also fell on the ground. Raje himself also asked the office bearers to control the workers several times, but no worker was ready to sit. Because of this Raje could not even address and left from there.
MP, MLA with
In the program of Vasundhara Raje, MP Mahant Balaknath Yogi, city MLA Sanjay Sharma, city council chairman Ghanshyam Gurjar, former minister Mangalram Koli, former MLA Jairam Jatav, Maman Yadav, Ramesh Dhichi, BJP district president Sanjay Naruka, business cell district president Pramod Vijay, Ramgarh Sukhwant Singh, who was a candidate in the assembly elections from Behror, Mohit Yadav, son of former minister Dr. Jaswant Yadav, contested from Behror, former district president Pt. Dharamvir Sharma, BJP district minister Deepak Pandit, former city council chairman Ashok Khanna, former UIT chairman Devisingh Shekhawat, including Many councilors and other officials were present.
Many big leaders of BJP were absent
During the visit of former Chief Minister Raje to Alwar, many local leaders were not seen in the Circuit House. Many party officials including former minister Hemsingh Bhadana, Dr. Jaswant Singh Yadav, former MLA Gyandev Ahuja, Ramhet Singh Yadav, Banwarilal Singhal were also absent during his visit.
Former minister Dr. Rohitashwa was also present
Dr. Rohitashv Sharma, ex-minister expelled from BJP, received a separate welcome outside the circuit house along with the workers. Many workers were present on this occasion.
,